GREELEY — It's unlikely that anyone would mistake downtown Greeley for Broadway in New York or Broadway in Nashville (or even South Broadway in Denver), but the Northern Colorado city has made strides in developing its central district into an arts, entertainment and cultural hub that a thriving and energetic college town deserves.
Ten or 15 years ago, "coming downtown wasn't really part of a young person's vernacular," said Brian Seifried, whose Centennial Hospitality Group, the parent company behind culinary concepts such as Wing Shack, Sexy Sammies and Luna's Tacos, is active in the Greeley restaurant and entertainment scene. "There were a lot of shuttered businesses and just not as much going on. It's really been neat over the last few years to watch things grow and change, and now there are a lot more options" for those looking for a night out.
"There's just so much momentum" in terms of new activities for downtown residents and visitors to check out, from indoor rock climbing to line-dancing to yoga, Christine Kutil said. Kutil is the director of operations for Richmark Cos., whose residential project, The Maddie, has helped spur Greeley's downtown renaissance.
"We needed something nice and new that can attract a different population to our downtown," Greeley Downtown Development Authority executive director Bianca Fisher said.
If The Maddie served that function for downtown's residential market, the Moxi Theater has played a similar role in the arts-and-entertainment space.
"As a college town, live music is an important thing for the community to have," Moxi founder and president of concert promotion company BandWagon Presents Ely Corliss said. "And what better neighborhood to have (a premier concert venue) than downtown?"
The Moxi Theater is celebrating a decade in business this year, "and over those 10 years, we've seen change a lot," Corliss said. Most of that change has been positive, despite a challenging period during the COVID-19 pandemic "when we lost some of our neighbors" to business closure or relocation. "There's been an ongoing renaissance in downtown over the past decade. The area's starting to experience another rebirth after the pandemic."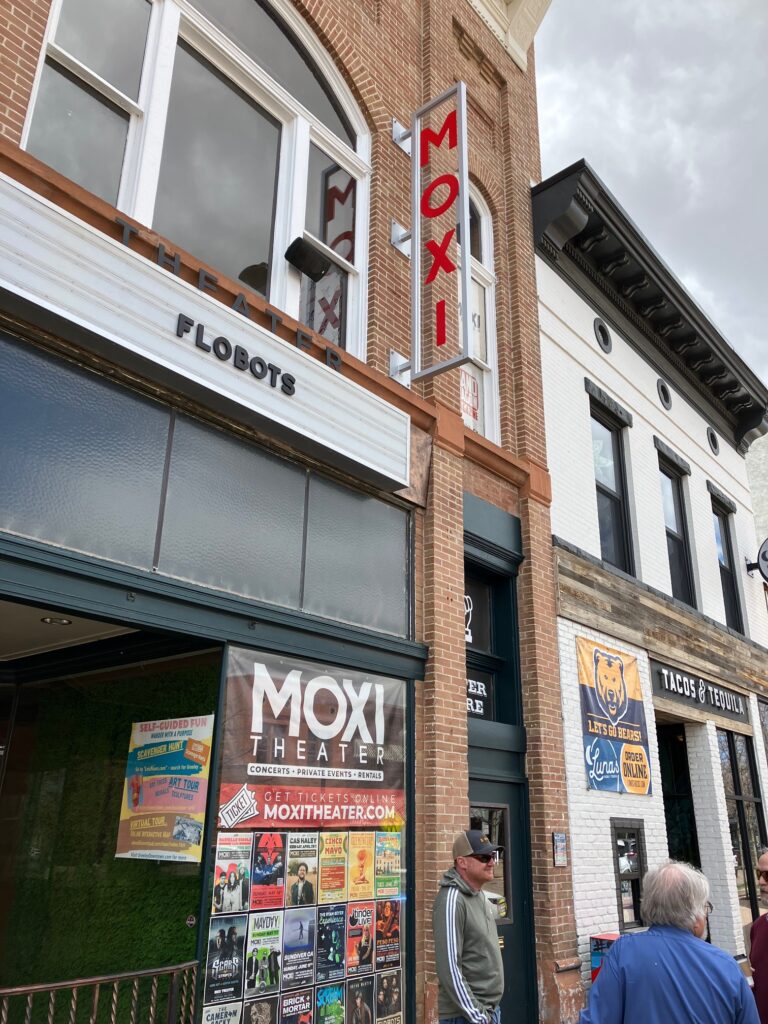 During the COVID-19 pandemic, Corliss opened Stella's Pinball Arcade & Lounge in a space below the Moxi Theater
"That's been a hot addition to the block," he said, especially because Stella's added a standup comedy showcase on Thursdays
"There's the potential for that scene to take off" in downtown Greeley, Corlyss said, "Stand-up comedy is a true American art form that's really having a rebirth. It's a really cool form of live entertainment and a great alternative to live music. We're trying to be the kind of quality stuff you see at Comedy Works in downtown Denver, that big city quality, to Greeley"
While The Moxi and Stella's might be where downtown Greeley residents go to see national touring acts, Friday Fest is the neighborhood's opportunity to showcase local and regional talent.
"Friday Fest is awesome," Corlyss said. "During the summer, it feels like a celebration of the beautiful weather we have here in Colorado."
While many of downtown Greeley's visitors are locals, the city is beginning to see itself a regional draw.
"Greeley is proving to be a great destination for people all over the Front Range," Corliss said. "Certainly, that's what we're seeing with the theater. We're attracting folks from all over the region to buy tickets here."
Part of the appeal of the downtown entertainment scene, Seifried said, is that it feels unique because so many of the players are local, small businesses.
"A lot of our surrounding areas seem to have become collections of national tenants and nations brands," he said. "There's nothing really wrong with that, but they don't represent the culture or energy or creativity that downtown Greeley does."
Greeley's downtown cultural scene benefits from its proximity to the University of Northern Colorado, with its young, energetic and creative student body, but for too long, experts say, the school and neighborhood were often viewed as existing in separate silos. That's begun to change.
"I think there's a stronger connection than ever between UNC, the students and faculty, and downtown," Seifried said.
In addition to a strong commitment to community unity from UNC president Andy Feinstein, the deeper town-gown connection is driven in part by new residential offerings that appeal to students, staff and recent graduates, Seifried said. Richmark Cos.' The Maddie apartment project, which helped convince businesses such as Natural Grocers to open downtown, "has really connected the campus and the downtown core," and the distance between the heart of campus and the center of downtown now "feels shorter and shorter."
The arts and cultural scene in Greeley benefits from the presence of young creative people associated with the university, and a "fun and energetic and progressive" downtown helps UNC reach "its goals of attracting and retaining students," Seifried said.
It's not all young professionals and recent University of Northern Colorado graduates who are driving the entertainment and cultural renaissance in the center of town. Greeley has long been home to a sizable and active Latino community, which continues to provide flavor and energy to the downtown area.
"There are so many fun Mexican and Latin American businesses and restaurants that are part of the downtown community," Seifried said. "If you go up Ninth Street, there are some fantastic authentic spots … There's just a lot more diversity in terms of the offerings than there ever has been downtown."
Part of downtown's momentum is due to the relative cost of business and groups like the DDA that can help businesses navigate through bureaucratic red tape.
"Greeley is a lot more approachable than some of our neighboring communities in Northern Colorado and Dever" in terms of the cost of opening an entertainment business, Seifried said.
Corliss agreed and said, "I'm certainly a proponent of any removal of barriers to entry. To Greeley's credit, (the city government and groups such as the DDA) have been very supportive."
Greeley's downtown entertainment evolution shows no sign of slowing down.
"I think in the next decade, we're going to see two times" the growth and energizing activity downtown, Corliss said. "We're finally catching on."