From snarky to lively and slightly theatrical, downtown Greely coffee shops have a lot of diversity to offer, seemingly brought together only by coffee and those people whose job it is to wake up and make sure we have it.
The John Galt Coffee Co. is a good example; a coffee shop named for a character from an Ayn Rand novel, located inside a theater that also hosts a non-denominational church. On a rather dark and drizzly morning, it seems a bit dark, not a bit reminiscent of a Starbucks (thank goodness), but a place where somber or heartfelt discussions might be found under a bit of candlelight.
The face behind the coffee is cheery enough to brighten a day. Juiden Krause has been here since 6:45 a.m. to open at 7. Fortunately, home is close by.
"I usually get up at 5:45. Just enough time to get my face on," Krause said.
Margie's Java Joint is hoppin' pretty good at a bit past 8, despite most of the student population being gone for the summer.
"It usually starts poppin' at 8:30, and it's in full swing by 10," said assistant manager Carson Skinner. His day began at 5 a.m., and he was at work getting the store ready to open at 6.
Like many of the younger workers here, Skinner also lives nearby, making those early mornings slightly easier.
Skinner is also a seasoned veteran at the barista business, used to the early morning grind. "I started at 16 and have been at it for eight years," he said.
"It's a harder job than it seems," he said. "But I get to meet most of the people in the community, which I really enjoy."
At 10:30 a.m. Aunt Helen's Coffee is still hoppin'. Baristas Peyton Mazea and Alyssa Leveau don't seem to have a moment between orders.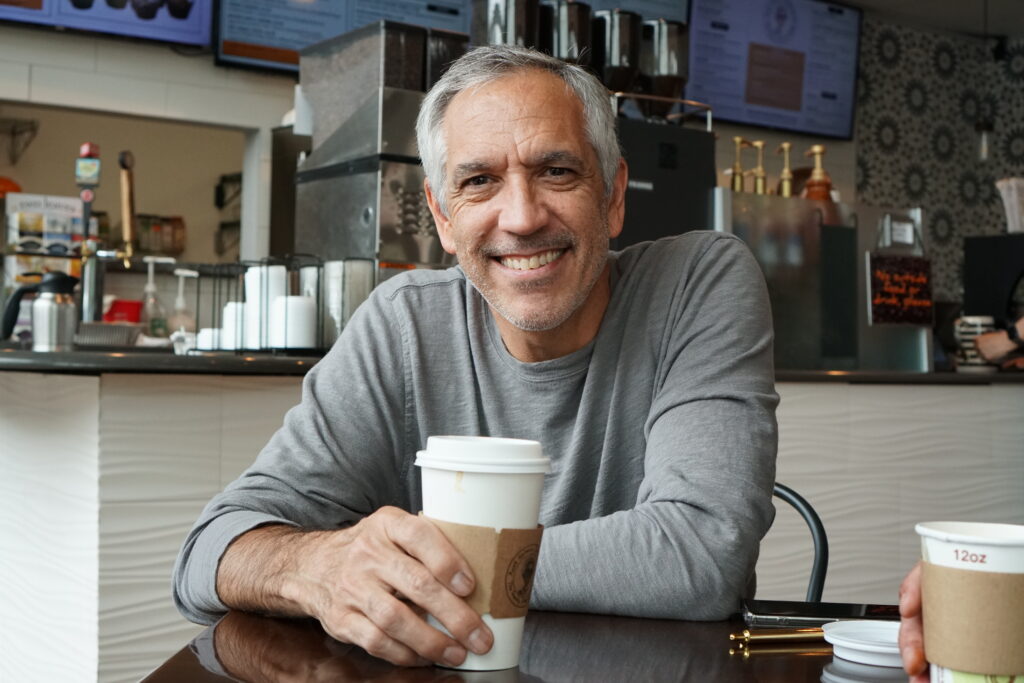 Known as the early-morning meeting place for many downtown business people, it's also known for the snarky remarks attributed to owner Aimee Hutson's great aunt, who passed away at age 108 in 2020. In fact, some of the remarks are printed on the cups, for instance, "The difference between coffee and your opinion is, I asked for coffee."
Co-owner Bob Hutson says his wife is responsible for most of the day-to-day operations, but today she's off on a catering assignment, while he manages the shop.
"We really click about 9," he said. "That's when most of the business people get settled in, and say, 'Let's go get a cup of coffee."
The couple actually met here in Greeley, both attending the University of Northern Colorado. They returned in 2016 and opened the shop the following year, and though the namesake of their establishments has passed, their enthusiasm has not, Aimee said in an email.
"Every day offers new and exciting opportunities which keeps us moving forward and continually re-inventing ourselves," she said, noting that the location has everything to do with that.
"The vibe of downtown and the community! We are rapidly growing and have a very close business owner/operator support network, which keeps us engaged and thriving."