GREELEY — The High Plains Library District's new Library and Innovation Center, or LINC, is more than a mere booklender. The facility, which opened in May at the Greeley Tribune building site at 501 Eighth Ave., is a center for workforce development, skills building, life-long education and community engagement that also serves as a new anchor for a reenergized section of the city's downtown core.
"This is a type of library that I've never seen before," High Plains Library District executive director Matthew Hortt said, that's meant to be more "experiential" and less passive than libraries of the past.
LINC visitors can learn woodworking and record podcasts (or maybe start a podcast about woodworking!), learn the basics of robotics and fabricate components to build one using a 3D printer.
"That's where I see, and the district sees, libraries shifting to. There will be plenty of books, but there will be more than books," Hortt said. "We want to make this a destination where you come to learn, where you come to expand your horizons."
The district views its mission as helping to "create the space and resources" for people to grow personally and professionally, an especially critical function for members of the community who have faced "barriers to higher education," Hortt said.
Not only can the library help build valuable professional skills, "we will get you connected with the right people to accelerate what you're doing," he said.
The LINC, of course, isn't exclusively focused on boring, grown-up stuff such as workforce development — the facility is brimming with fun, interactive and educational experiences for Greeley's younger generations.
"What really gets me excited is the access and opportunities for kids, which is a deficiency for us in all of Greeley," Greeley Downtown Development Authority executive director Bianca Fisher said.
Kid-centric features include a paper airplane proving ground, a cloud blaster that spouts vaporous puffs into the air and an age-appropriate maker space.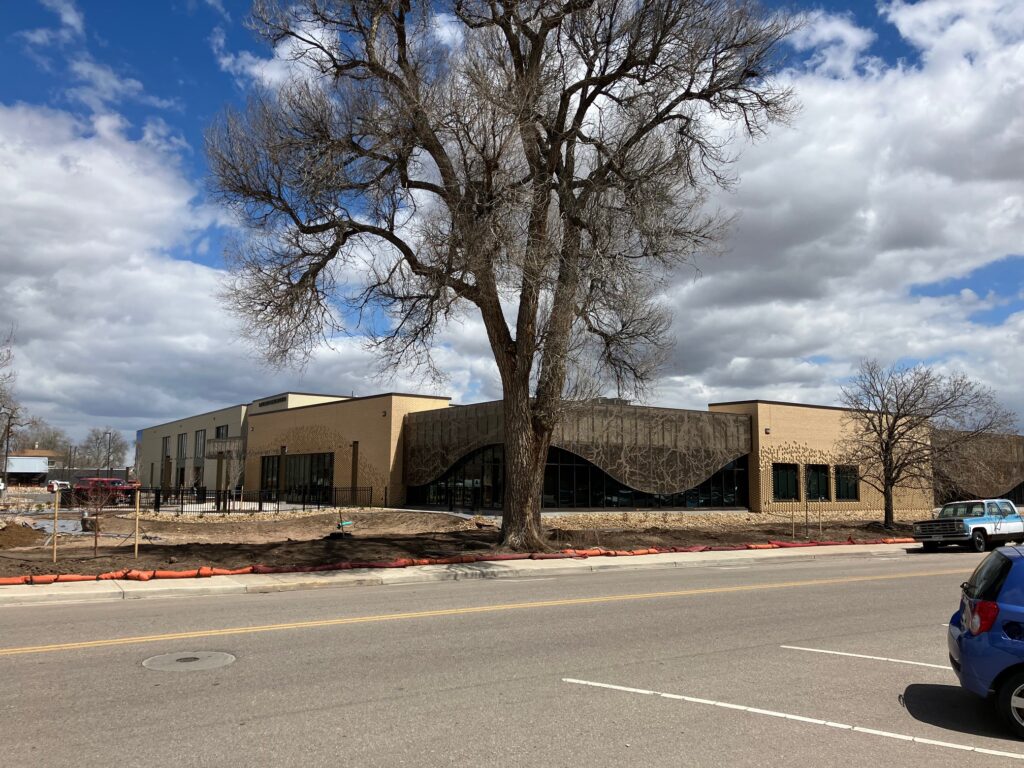 "One of things we wanted to do is not leave children out," Hortt said, so LINC staffers are working with the Denver Children's Museum to develop a robust program of hands-on fun and educational experiences. "I think those are going to be really exciting."
The LINC also has space for meetings, conferences and other events.
"We've built in as much flexibility as we could so it can change and evolve," Hortt said.
Unlike many other family-outing activities such as the movies, a trip to the LINC won't cost an arm and a leg.
"It's a public amenity; you're not having to spend $20 a person to do something," Fisher said.
The downtown area has been without a major library presence in the years since the old central branch was redeveloped as part of the construction of the DoubleTree by Hilton hotel.
"This is a project we've been waiting for for literally years," Fisher said, that "is going to really serve as an anchor" for the northern edge of downtown.
"There's so much more activity that's happening in the Eighth and Ninth streets area," and the LINC is expected to build on the momentum in the neighborhood.
It will be a testament to the progress that downtown Greeley has made in recent years as the district has grown rapidly with new businesses, new developments and more residents. The hope is that it also serves as a spark that brings more commercial and residential development to downtown, Hortt said.
"A lot of the investments already made in the downtown area will draw people here," Hortt said. "I think we are going to be a part of that catalyst."